About Lt. Col (Ret) E Ray Moore
Director and Founder of Exodus Mandate and Chairman of PublicSchoolExit.com
Media Contact: Jackie@TruthPR.com or 662-259-0988


Exodus Mandate and Public School Exit is an example of a grassroots movement of parents, grandparents, and concerned citizens that empowers parents to assume their central role in educating their children.
Director & Founder, Exodus Mandate

Chairman of Public School Exit

Retired Military Chaplain

Homeschooling Pioneer

The nation's leading advocate of a mass exodus of Christian children from the government schools.

Author, Let My Children Go

Moore's latest film, Escaping Common Core

Executive Producer, IndoctriNation.

Graduate of The Citadel in Charleston, SC
Lt. Col. E. Ray Moore, a retired military chaplain, a homeschooling pioneer, and the nation's leading advocate of a mass exodus of Christian children from the government schools.
E. Ray Moore, Th.M., is an Army Reserve Chaplain (Lt.Col. Ret.), and veteran of the Gulf War I which he was awarded the Bronze Star Medal. He is a graduate of The Citadel in Charleston, South Carolina, and Grace Theological Seminary in Winona Lake, Indiana. He is president of the Board of Directors of Frontline Ministries, Inc., a Columbia, South Carolina, based ministry that focuses on promoting spiritual renewal in society and the church. He is director of the Exodus Mandate Project. He is chairman of the Christian Education Initiative (CEI), www.Christedu.org. He is chairman of www.publicschoolexit.com.
Ray is the author of  Let My Children Go and co-authored with his wife, Gail, The Promise of Jonadab: Building a Christian Family Legacy in a Time of Cultural Decline. He is also one of the Executive Producers of the 2011 award-winning film, IndoctriNation: Public Schools and the Decline of Christianity in America (Gunn Productions). He is script-writer and Executive Producer of the July 2015 released film, Escaping Common Core: Setting Our Children Free (Cutting Edge Films).
E. Ray Moore (Chaplain, Lt. Col. USAR Ret.), has served for over forty years in pastoral ministry as a campus pastor, a congregational minister, an Army Chaplain or Director of a Christian ministry. Additionally, he has served as a campaign consultant or staff for several major political campaigns, including former Vice-President Dan Quayle's first Senate race in 1980, former Congressman Mark Siljander's first Congressional race in 1981 and Pat Robertson's Presidential Campaign in 1986 to 1988.
Books:
DOCUMENTARY: ESCAPING COMMON CORE: Setting Our Children Free
A great new DVD to encourage Christian parents to remove their children from public schools and enroll them in the safe sanctuary of private Christian schools, home school, or online Christian education. It also explains the origins of Common Core and exposes the agenda of the Socialist worldview, the danger of it, and why Christians cannot participate in it. Click the link to learn more and order a copy!
---
Truth is Fallen in the Street: Examining the Pedagogy of Christian Teachers in Public Schools, by Jay Jusino. Parents send their children to school, and students attend school, with the expectation that they will receive knowledge, and that this knowledge will be the key to unlocking their future potential. The Bible teaches clearly that it is the fear of the Lord that is the beginning of knowledge (Prov. 1:7). As such, acknowledgement of God is fundamental to any and all knowledge-based pedagogy. To teach academic subjects apart from Christ, in whom are hidden all the treasures of wisdom and knowledge (1 Cor. 2:3), is to fundamentally disconnect the world we all see and live in from the One it was created by and for. In this work, the Christian teacher in the public setting is challenged to re-examine his/her fundamental pedagogical approach in light of the premise of Proverbs 1:7 and Colossians 2:3.
---
This impressive new companion guide to the award-winning documentary film, presents loads of supplementary information from the filmmakers, those interviewed in the film, and others, seeking to destroy the myth of neutrality in education, expose the anti-Christian roots and teaching of the American public school, and explore biblical principles of education. Over 30 contributors, including: R.C. Sproul, Jr., Ken Ham, Doug Phillips, Voddie Baucham, Jr., E. Ray Moore, Kevin Swanson, Israel Wayne, John Taylor Gatto, Erwin Lutzer, and many more.
---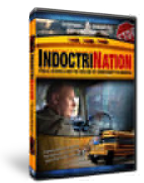 INDOCTRINATION – PUBLIC SCHOOLS AND THE DECLINE OF CHRISTIANITY IN AMERICA
A family field trip exposes the shocking truth behind your child's public school. If you're not ready to take a hard look at the true state of public education, you will not want to view this unflinching documentary. But you must! Winner of the 2012 Best Documentary Award at the San Antonio Independent Christian Film Festival. "Every Christian parent with a child in a government school should see this…" —Cal Thomas, syndicated columnist
---
By Dr. Bruce N. Shortt, a homeschooling father of three who practices law in Houston, Texas. He also previously served on the board of Frontline Ministries, Inc. and the Exodus Mandate Project. The foreword is by T.C. Pinckney. This book combines a sound Biblical basis, rigorous research, straightforward, easily read language, and eminently sound reasoning. Whether one is a parent or parent-to-be, pastor, church staff member, or educator, this book has much to offer.
---
By E. Ray Moore. American schools receive the highest funding in the world yet consistently rank near the bottom in mathematics, physics, and science. Despite the failings of public schools, more than 80% of evangelical Christians place their children in the public school system, exposing them to physical and moral danger on a daily basis. The Biblical instruction of our children may be the thrust that God could use to restore American society and revive the nation. A fresh obedience by the Church to its God-ordained role in education may be the catalyst for a new Great Awakening.
"I am convinced that our only hope is to rescue our children from government schools and raise a godly generation. Government schools cannot be redeemed. Saying we should not abandon them is like saying the passengers of the Titanic should have stayed aboard because the band was playing good music and the captain was a good man. We must RESCUE OUR CHILDREN!"